The updated functionality set of the Datagroup
2012 "Datagroup" features a classic ARCH, which provides:
protection, integrity, and availability of transit information and information of WEB-resources that are transmitted through it;
protection of the confidentiality, integrity and availability of technological information components ARCH and technological information CSIS CODE;
protection of information resources, which circulate in the VAULT, including from unauthorized access and modifications.
However, there are threats from which the classic ARCH does not protect. Each year the number of cyber attacks is skyrocketing, and their complexity and resistance to classical security progresses. This trend has resulted in the need to revise the implementation of REDD to complement the decision services that enhance the security level of the institution and simplify the organization of cyber security measures for her.
to Learn more about the features and capabilities of classic and updated SET from "Datagroup" you can from the presentation.
what's New ARCH from "Datagroup"
clear the Internet traffic from malicious code;
protection against network attacks;
blocking malicious sites and site categories;
control over the use of the institution of software;
monitoring of access to web resources;
powerful Analytics, monitoring and alerts about incidents.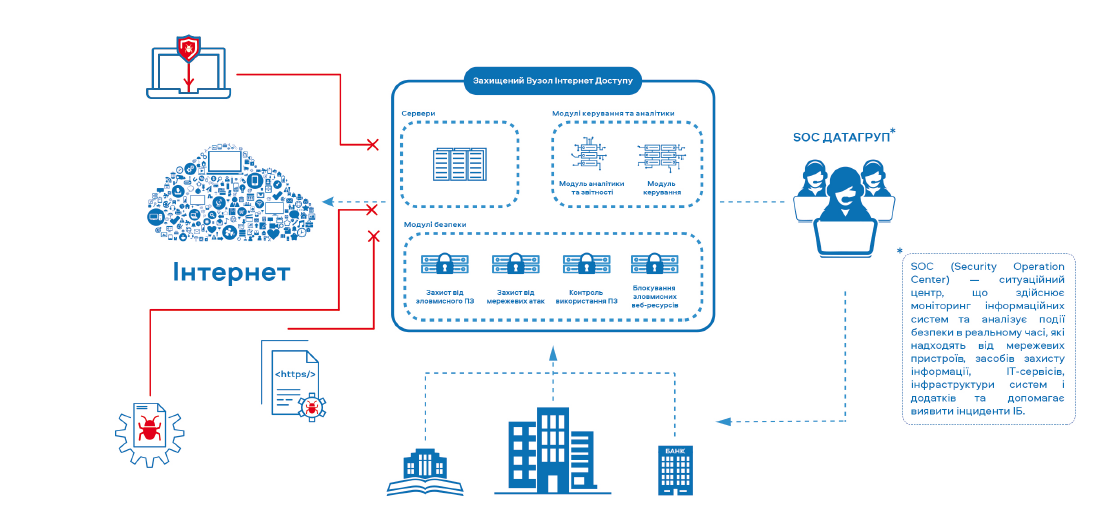 the advantages of the extended functionality from the SET of "Datagroup"
compliance;
additional anti-virus protection of an organization at the level of the operator'regard;
prevent cyber threats caused by the use of special software;
monitor the activities and efficiency of employees;
transparent reporting according to selected criteria;
advice, support and investigation of incidents;
savings of financial and human resources for the organization of cyber-security institutions.
intrusion prevention System
Monitoring and event notification