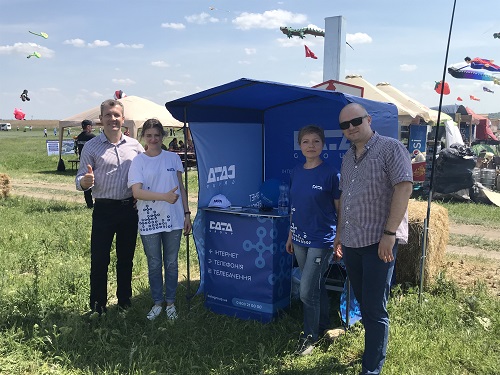 From 17 to 19 may was the largest kite festival in the village Trigati the Nikolaev area. The festival attracted thousands of guests from all over Ukraine, who came to admire the giant kites. For visitors in a large area it has many zones with a variety of activities: master classes, performances by Ukrainian stars, hot air ballooning. For three days the participants and guests could share their impressions and share photos, thanks to the Internet access, which provides free Wi-Fi zone from the "Datagroup". In addition, for everyone who for any reasons could not attend the festival were available online broadcast of the event, which also provided the company "Datagroup".
the festival was attended by kiters from 10 countries-India, Germany, Switzerland, Italy, Brazil, Poland, Turkey, Bulgaria, the Netherlands, Estonia, as well as Ukrainians from Nikolaev, Voznesensk, Dnieper, Krivoi Rog, Kirovograd, Rivne, Kherson, skadovs'k, Nikopol, and the like.
the Company "Datagroup" continues to support vibrant events and festivals in the country, providing quality SV'communications in any part of Ukraine.